This is how it all started:
https://www.reddit.com/r/MapPorn/commen ... irst_used/
---
Interesting how it all got started isn't it!

I was taking a class down at Washington University when they somehow got connected up with another college.
There were no nodes or hubs back then either.
For my friend to send a message to his friend at another college, he had to come up with a path of connected computers that would eventually get his message to him.
He had a big sheet of paper up on the wall, like is used on easels for presentations, and the names of the computers he had to send a message through to get to various people he knew. Almost always he had to connect to at least four different machines and sometimes six or seven just to send a message.
Using your map above for the example. From WashU to Case to Lincoln to MIT to BBN to Harvard for Robert.
Each stop was separated by various codes whether to forward or hold for a person.

We've come a long way since then! Hmm, or have we gone backwards in some cases?
---
I don't understand why Utah is on that map. The need for a hub is a likely explanation, but then the path from Rand to BBD is direct. Amazing when you think about it. Even more amazing is today's public network that looks like multiple spider webs covering the planet. I'm still awed by how it all seems to work. Most of the time. Usually.
---
Oh my! You should have seen the first telephone system they built in our small town.
They COULD NOT use the Poles the Telegraph Companies wires were on.
Besides, they only ran from the Kirkwood Train Depot to the Kirkwood Telegraph Office, then one set of lines ran from the Kirkwood Telegraph to Rock Hill, and another set to Des Peres. The Kirkwood Train Depot also had a set of lines that ran from there to the Glendale Train Station.

FEAR that the Telephone would put the Telegraph Company out of business, made them strict about their equipment and telegraph poles.

Now Kirkwood had their own telephone system long before Des Peres began building their local system.
So Des Peres took some tips from the Kirkwood layout, and decided the best place to run the wires was down the north side of Manchester Road, probably because the largest businesses were on that side of the road and would be the first to get telephones. They did not have Party Lines yet, so each business had to buy the wire that ran from their building all the way back to the Phone Company Building. Then they came out with larger multi-wire cables the phone company ran up and down Manchester Road, and they learned they could add residential lines and put more than one phone on a line, thus the birth of the Party Lines, also learned from the Kirkwood System.
Then along came MaBell and began integrating the individual towns together. Des Peres could then call companies in Kirkwood, and eventually residences in Kirkwood as well.
After that, the phone company in our area began to blossom and grow rapidly until the whole nation was wired with telephones.

Back to the original wires though. Talk about a spider web sorta, but more like spokes on a bicycle wheel. To save money, the first businesses to connect, like those on Ballas Road, and other streets, ran their lines directly from their business to the phone company. Clusters of businesses would get together and install their own poles and allow each other to string across them until they reached the poles owned by the telephone company. Sometimes these wires ran across the rooftops of barns and other buildings en-route to the phone company, hi hi.

So, they had Telegraph Poles, Telephone Poles, and Power Company Poles and nary the twain shall interfere with the other. Kirkwood Power and Light is who technically got the ball rolling of using the same poles for everything. But they could not pull it off themselves. In steps Union Electric Company, who had enough money to buy all the existing telegraph and telephone poles, and bought those owned by Kirkwood Power and Light and other Power utility companies in other towns. To prevent from being overcharged for pole space, in stepped the government and set the lease prices and locations on the poles which each service could utilize.

By the time I was born, most of the telephone and telegraph poles that were everywhere in old pictures were now gone, and only the multi-user Utility Poles now ran up and down Manchester Road. But Des Peres still had it's own telephone system until I was probably around 7 to 10 years old. Because I remember the times the phone numbers changed and how I had to call my dad at work changed. It went from a two digit number, to a three digit number, then when we were connected to Kirkwood, although we had the same three digit number, we often had to say Kirkwood 803 because we were now on the Kirkwood phone system and the Des Peres System no longer existed, except for local switchboards.
You know the rest, they came out with Exchanges like TAylor 1-7393 our home number, and YOrktown 5-2460 for Dad at work. Later they dropped the letters and our home became 821-7393, and dad at work became 965-2460. Yep, I still remember when it was Kirkwood 803, but forgot what the two digit number was. I ran across sit once somewhere, but failed to jot it down, drat.
---
As luck would have it, I Googled Kirkwood Phone Company, and this is what I got ...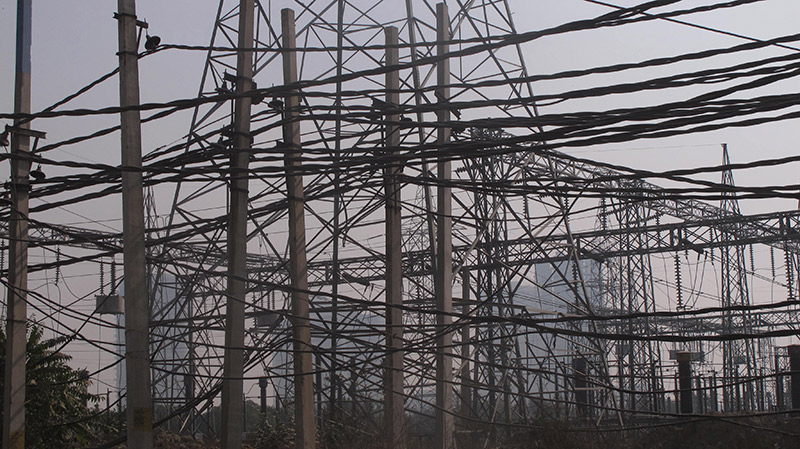 ---
Looks like something you would have found in Kirkwood, hi hi.

I'll look through some of dad's old pictures and see if he has any looking up or down Manchester Road.
I know he had a picture of one of our trucks that was in an accident, but it is not in my digitized files.

As a kid, I remember the old Al Hoeh hardware store and the many wires that ran next to it as the wires went from Manchester Road and down Ballas Road. It was truly a nightmare of wires going in every direction.

Neat Pix Yogi!
---
I am under the impression that the picture I posted is not 'shopped. There really is a place like that; one of many in fact. This pic is out in the country somewhere, but I have seen one in a city with pedestrians walking underneath the mess of wires. The truly amazing story with the pictures is that somebody knows where all those wires go.
---
I've seen some pictures of India, and it is really bad the way the wires run haphazard all over the place, especially near the telemarketing centers.

Other than the steel framework shown in your picture, that's about what it looked like near the phone building, hi hi.
---